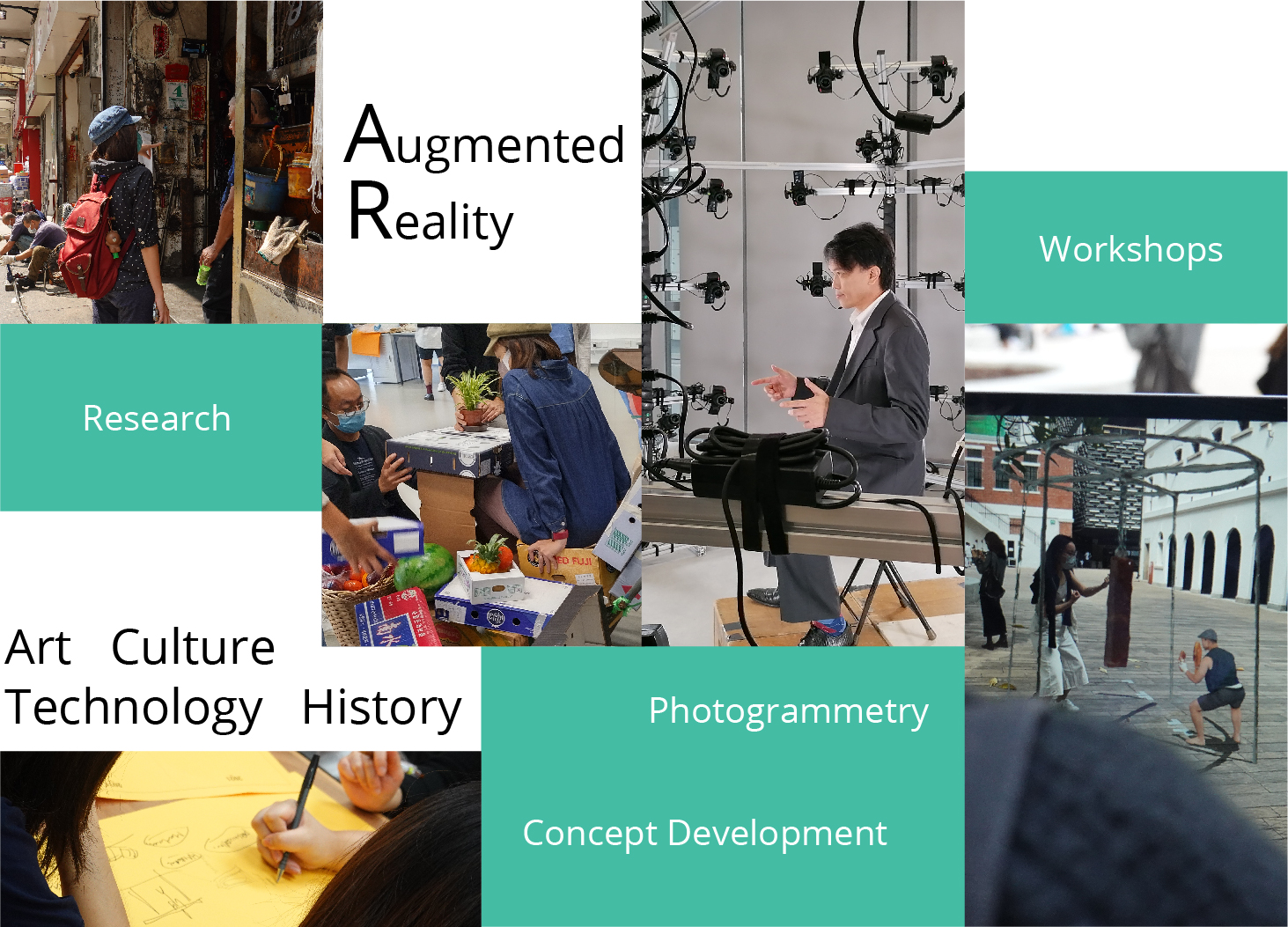 2021-22
Participating
Schools
Hong Kong Baptist University Affiliated School Wong Kam Fai Secondary and Primary School
Hong Kong Chinese Women's Club College
Jockey Club Ti-I College
SKH Lam Kau Mow Secondary School
St. Stephen's Girls College
The ELCHK Yuen Long Lutheran Secondary School
Yan Chai Hospital No.2 Secondary School
YCH Lim Por Yen Secondary School
2022
7.24-9.25
AR Exhibition @Tai Kwun
Jockey Club Augmented Reality in Arts Education Project is funded by The Hong Kong Jockey Club Charities Trust and organised by Osage Art Foundation, in collaboration with four higher education institutions. The Education Project offers students and teachers in Hong Kong a unique interdisciplinary experience that integrates the four pillars of art, culture, technology, and history. Over 100 secondary students experienced the process of producing the AR art project through research, concept development, scenographic design, photogrammetry, and the realization of an exhibition. This public art exhibition at Tai Kwun is the outcome of Year 1 of this Education Project.
With the "JC AR Education Project" app installed, you are invited to explore and interact with the 26 augmented reality (AR) 3D models created by the secondary school students and placed in different locations in Tai Kwun. You will be able to enter the virtual world and interact in the present with AR models drawn from the stories of past and future, compose and recreate your own new narratives.
*Visitors are recommended to pre-installed the "JC AR Education Project" app before the visit.
Free docent tours
Tue & Thu: 15:00-16:00
Sat & Sun: 10:30-11:30 / 14:00-15:00 / 16:00 -17:00
2022-23
Open Call
for
Secondary School &
Post-secondary Students
Introductory Talk:
19th May 2022, 9:30am & 20th May 2022, 4:30pm
Application Deadline: 5th September 2022
Eligibility:
AR workshops for secondary students
Any secondary schools in Hong Kong.
A total of 8 schools will be selected by the selection panel.
Full support of the project from the school.
Requires full attendance for a total of 58 hours of workshops.
Train-the-Trainers
Any tertiary students in Hong Kong tertiary institutions that are interested interdisciplinary education involving art, technology, history, and culture.
A total of 28 students will be selected by selection panel.
Requires full attendance for a total of 58 hours of workshops.
Please contact Jiafan Weng (jiafanweng@oaf.cc) or Zoe So (zoeso@oaf.cc) for more information.